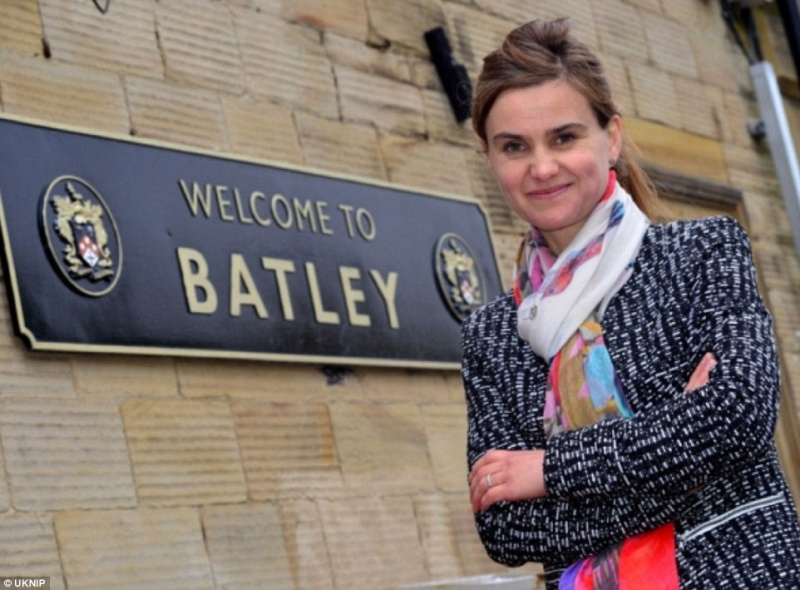 MPs from across the political spectrum have set aside their differences to pay tribute to one of Parliament's most promising young MPs who was killed in the street in her constituency. The suspect, who was arrested at the scene, was named locally as Thomas Mair, aged 52. He was reported to have shouted "Britain First" during an attack in which he fired three shots from close range while at the same time stabbing the MP with a knife.
David Cameron and Jeremy Corbyn led the tributes to Ms Cox, a mother of two young children, who had only been elected as an MP in 2015.
Mrs Cox, 41, is pictured with her husband Brendan on election night when she was elected as an MP for the Batley and Spen area (left) and posing happily with her husband on their wedding day (right). The MP was shot and died of her injuries outside a constituency meeting
Ms Cox is the first MP to have been fatally attacked while in office in more than quarter of a century.  She was pronounced dead around an hour later, leaving her husband Brendan and two young children, aged 3 and 5.
Jo Cox, who has died after being shot at a constituency surgery, quickly made her mark as one of the brightest stars of the new intake of MPs elected in last year's general election.
West Yorkshire Police have arrested a 52-year-old man, named locally as Thomas Mair.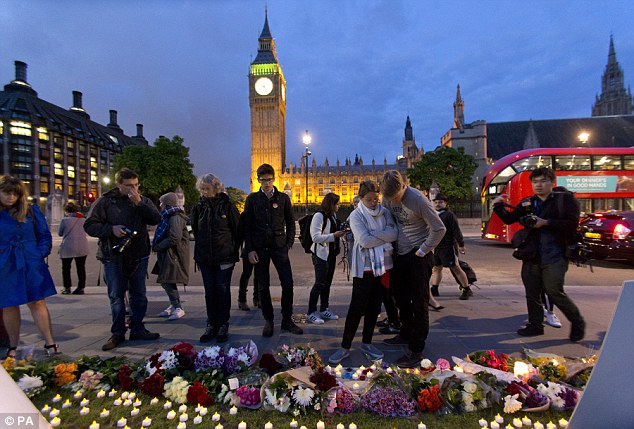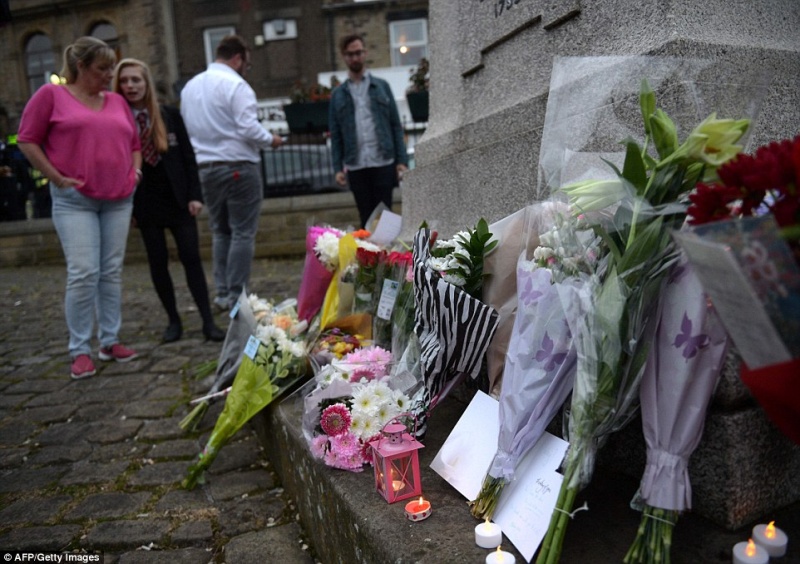 Both sides in the European Referendum campaign cancelled events due to be held on Friday as a mark of respect. Flags across Whitehall were lowered to half mast.
 THREATENED AND HARASSED:
 Cops 'were stepping up security' for murdered MP Jo Cox after she received threatening messages for three months before she was killed
The mum-of-two, gunned down in broad daylight, reportedly thought little of the threats until the volume and frequency increased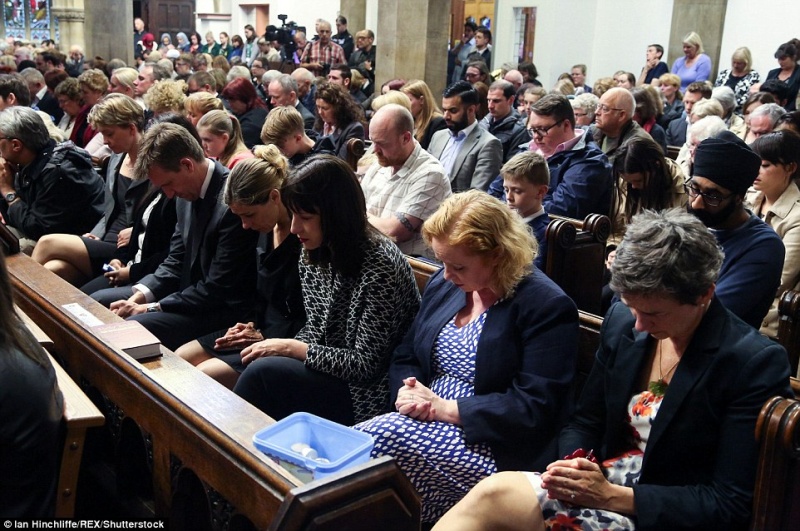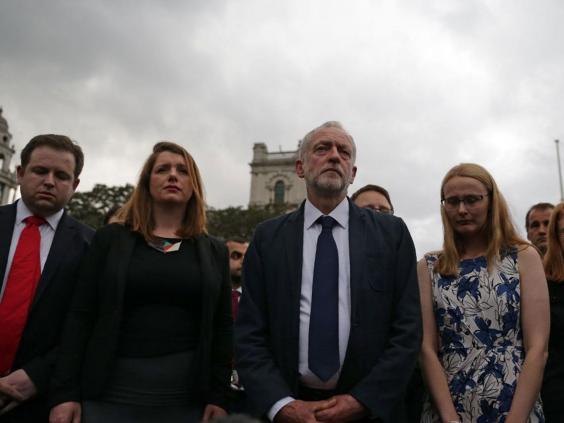 Witnesses to the fatal attack on Ms Cox say they heard Mair shout "Britain First" as the MP was shot and then stabbed. The organisation Britain First, which was founded by former members of the British National Party, has denied that Mair was associated with it and say they condemn the killing.
In May 2010 Mair was himself in the news. In an interview with the Huddersfield Daily Examiner he talked  about getting work at a local park after being referred to a clinic for adults with mental health problems.
He said: "I can honestly say it has done me more good than all the psychotherapy and medication in the world. Many people who suffer from mental illness are socially isolated and disconnected from society, feelings of worthlessness are also common mainly caused by long-term unemployment.All these problems are alleviated by doing voluntary work. Getting out of the house and meeting new people is a good thing, but more important in my view is doing physically demanding and useful labour."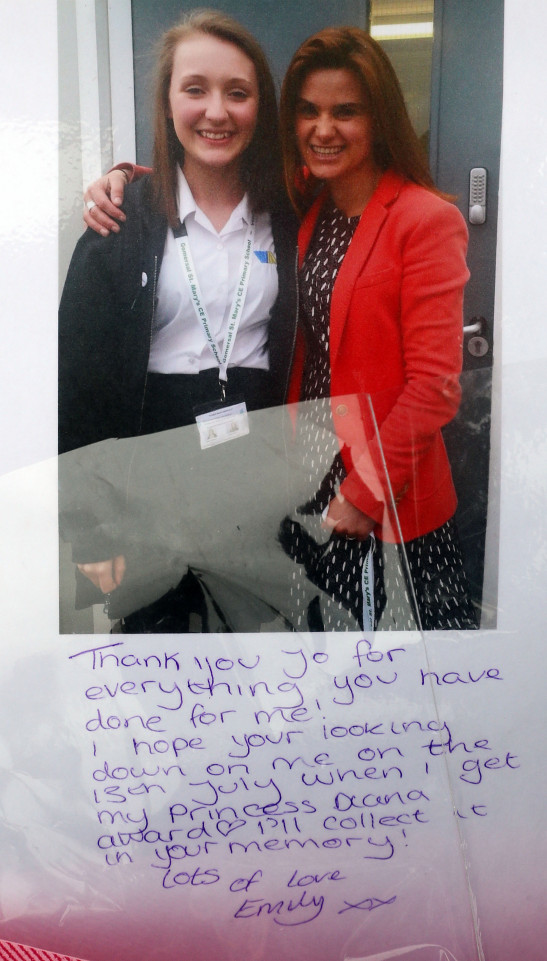 Neighbours described how he would do gardening chores for local people.
David Pickles said: "He's lived there longer than me and I've lived here since 1975. I still can't believe it. He's the last guy I would have thought of.
"He's just quiet. He kept himself to himself. He lived by himself. He's been on his own for about 20 years.
Another neighbour, who did not want to be named, said: "We've known him quite a lot of years. I've known him since I was young. He lived with his grandmother in that house, she died a few years ago. He was a bit of a loner. It's a bit of a shock - he did everyone's gardens.
"I can't say a wrong word about him, he was so quiet. It's come as a shock to everybody."
Remembering Jo Cox through pics