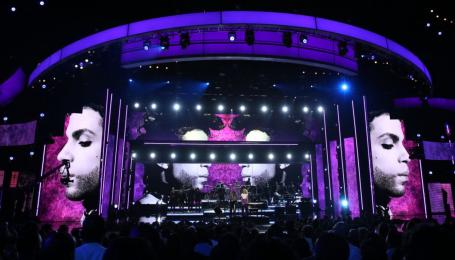 Stars, including The Roots, Stevie Wonder, Jennifer Hudson, Maxwell, Erykah Badu, paid tribute to the late star.
RATHER THAN paying tribute to the late Prince with a single performance, this year's Black Entertainment Television (BET) Awards honoured him with a series of performances throughout the evening.
The awards show was opened with a surprise performance from Beyoncé and Kendrick Lamar. The Lemonade collaborators kicked off the night with an electrifying rendition of Freedom, the tenth track from Beyoncé's platinum-selling sixth album, before the Prince tributes began.
OPENING ACT: Beyoncé, left, and Kendrick Lamar perform Freedom
Announcements of the BET Awards' Prince tributes made it seems as if it would be a single performance involving D'Angelo, The Roots and others. But as the show began, it became clear that there would be a series of tributes throughout the night.
The first one came just 35 minutes into the show, as comedian Dave Chappelle took to the stage.
"On April 21, we got that news, and literally our hearts were broken," he said as the camera flashed to director Spike Lee actor and Samuel L. Jackson in the audience. "I was 11 years old when Purple Rain came out, and by the time I was 20, Prince had changed his name to an unpronounceable symbol. … We miss him dearly. And tonight we celebrate the rich legacy of this remarkable genius, who we are all so proud of."
The then introduced his "old friends" The Roots and their longtime friends and collaborators Erykah Badu and Bilal.
The next tribute saw Stevie Wonder and Tori Kelly teaming up for the Prince/Apollonia duet from Purple Rain, Take Me With U.
At the song's end, Wonder moved over to a conventional synthesizer, Kelly picked up a guitar, and Oscar-winning star Jennifer Hudson entered from stage right.
Hudson, rocking a white-hooded blazer, and Wonder, clad in a purple suit, sang Purple Rain, a month after the piano-playing icon performed the song with Madonna at the Billboard Music Awards, which BET dissed on Twitter.
SOULFUL DUO: Jennifer Hudson and Stevie Wonder
Within half an hour, Maxwell took to the stage. After performing Lake by the Ocean, the single from his forthcoming album BlackSUMMERS'Night, segued suddenly into Prince's Nothing Compares 2U, updating the lyrics to address Prince: "It's been 7 hours and 66 days since you took your music away," "I went to the record store, Apple, Spotify too, and they told me 'Boy you'd better try to make some music, which you can't do - 'cause Prince is the truth!"
He was followed by Janelle Monae, whose classic style lent itself well to a medley that started with Delirious, from 1999, before segueing into Kiss
"I love you Prince," she said at the end of her performance, falling to her knees before strutting purposefully off stage.
The big finale kicked off with some confusion: D'Angelo, possibly the greatest Prince influencee in the business, had been advertised as performing with longtime Prince collaborator Sheila E. But word spread during the show that he had bowed out, so Sheila, a world-class drummer and no mean bandleader, led the tribute herself.