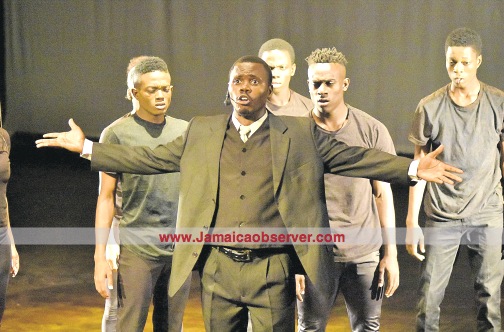 The University Players production was held at the Philip Sherlock Centre for the Creative Arts at the University of the West Indies, Mona campus, recently.
It began with Garvey (played by Andre Bernard) at the end of his life, being visited by four African ancestral spirits who have come to take him to the "other side". Garvey, however, pleads with the spirits that he would not go until he saw his legacy. The spirits then lead Garvey to present-day Jamaica to see if his life's work was carried forward throughout the generations.
It is here that we are introduced to "Scrubs" (played by Akeem Mignott), a young man who bleaches his skin; his aware aunt, Caroline (played by Alicia Taylor); and Rasta man, Benjamin (played by Derrick Clarke). This representation of modern-day Jamaicans, coupled with a group of young people who belittle blackness, angers Garvey, who, along with the African spirits, take key events in his life to teach them about his philosophy and his vision for people of African descent.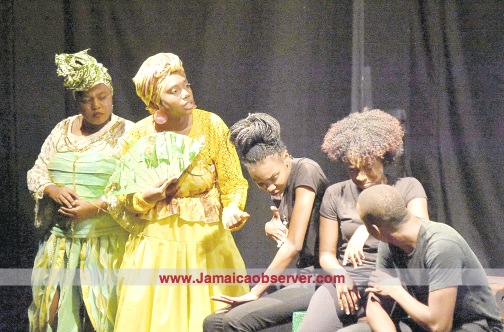 This included his termination from a printery in Kingston for leading a protest for equal pay for black workers; his Atlanta job on a banana plantation where he saw the slavish conditions under which immigrants worked. It would progress to show his encounters with Booker T Washington, WEB Dubois, and forming the Universal Negro Improvement Association and its subsequent failure, among other important aspects of his life.
The stories were told in action, music and dance and were interspersed with humorous lines that had the audience cracking up and engaged.
Holgate said his aim was to make Garvey relevant to the modern-day audience, especially in relation to issues of black identity and empowerment.
"I wanted to make Garvey relevant. So many people don't know about him. He's just a picture on a wall. I believe that he has been so important to the world and he has been so important to me in my life that I wanted to showcase what he has really done in terms of black unity, black pride and the importance of self-sufficiency [and] economic self-sufficiency. So I wanted to highlight the value of that. My life is all about creative empowerment, and Garvey was all about creative empowerment," said the director, noting that the format of the production was to appeal to the modern audience.
"This production is the beginning of sending them (young people) to read and know who Marcus Garvey is. There is so much more to discover about Garvey…and get beyond the myth of who this man was, what he represented, how it is that he became who he is. Productions like these educate, inspire, enlighten, edify, open your mind," said broadcaster Fae Ellington, who was in the audience.
TV personality Emprezz Golding said: "It was great to see. It was refreshing to hear the story and the way that he interpreted it. I thought some of the actors were just amazing. I really thought they embodied the ancestors, especially with the West Indian gods. Anancy did a great job and I think we need to encourage directors and story writers to do more of these kinds of musicals, but it was a really good job and I hope every school comes and sees it."
— Aldane Walters