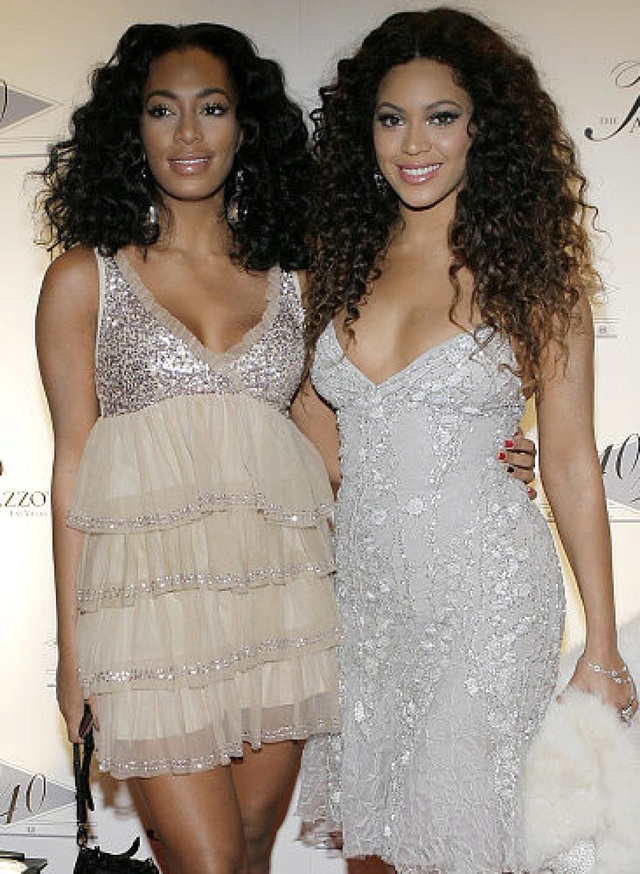 In between revealing a love of The Real Housewives of Atlanta and reminiscing on growing up in Houston, Solange and Bey also discussed creative process, womanhood, and their family — a huge inspiration for Solange's latest album, A Seat at the Table, where she even used audio of their parents as musical interludes. Solange shared that the vision and drive that she witnessed from the strong women in her life, especially from their mother and Beyoncé herself helped to shape her creative process.
"Growing up in a household with a master class such as yourself definitely didn't hurt," she said. "And, as far back as I can remember, our mother always taught us to be in control of our voice and our bodies and our work, and she showed us that through her example."
"But I do have—and I'm unafraid to say it—a very distinctive, clear vision of how I want to present myself and my body and my voice and my perspective.
And who better to really tell that story than yourself?" she said. "Which is a huge part of why I wanted you to interview me for this piece. Because the album really feels like storytelling for us all and our family and our lineage. And having mom and dad speak on the album, it felt right that, as a family, this closed the chapter of our stories."
Who inspired her to write, arrange, and co-produce every track on A Seat at the Table.
One of my biggest inspirations in terms of female producers is Missy. I remember seeing her when you guys worked together and being enamored with the idea that I could use myself as more than a voice and the words. On my previous records, I contributed to production here and there, but I was always really afraid to really get in there and ... I guess I wasn't really afraid, I was just really comfortable writing the songs. I felt like my contributions as a producer were enough.
But when I started to work on the sonics for this record, I realized that I had to create such a very specific sonic landscape in telling the story. I had these jam sessions, and there were holes that no one else could really fill for me. It really came out of a need for something outside of what I could articulate and lead someone else to do. And it was scary. It was really scary, and a lot of times I was frustrated with myself and feeling insecure because it was new to operate in that space and be in front of people at this age, learning something on this level. But I feel so grateful and excited that there's a new phase that I conquered as an artist.
How she manages to find new musicians before everyone else.
I'm probably on the Internet way more than I should be. [both laugh] I don't know. I love connecting people. I love introducing people to other people who are doing incredible work in the world. And I'm just on the Internet too damn much.
And the meaning behind her single "Cranes in the Sky."
It's the only song on the album that I wrote independently of the record, and it was a really rough time. I know you remember that time. I was just coming out of my relationship with Julez's father. We were junior high school sweethearts, and so much of your identity in junior high is built on who you're with.
You see the world through the lens of how you identify and have been identified at that time. So I really had to take a look at myself, outside of being a mother and a wife, and internalize all of these emotions that I had been feeling through that transition. I was working through a lot of challenges at every angle of my life, and a lot of self-doubt, a lot of pity-partying.
And I think every woman in her twenties has been there—where it feels like no matter what you are doing to fight through the thing that is holding you back, nothing can fill that void. I used to write and record a lot in Miami during that time, when there was a real estate boom in America, and developers were developing all of this new property. There was a new condo going up every ten feet. You recorded a lot there as well, and I think we experienced Miami as a place of refuge and peace.
We weren't out there wilin' out and partying. I remember looking up and seeing all of these cranes in the sky. They were so heavy and such an eyesore, and not what I identified with peace and refuge. I remember thinking of it as an analogy for my transition—this idea of building up, up, up that was going on in our country at the time, all of this excessive building, and not really dealing with what was in front of us.   The interview was filled with cute moments between the musical sisters, and insights into their relationship.