A SPECIAL exhibition will chart the incredible life of the late Marcus Garvey at a memorial service commemorating the Jamaican political activist in the West Midlands next month.
On June 4, there will be an event in Dudley to commemorate the passing away of Jamaica's first national hero, who died on June 10, 1940 in London.
A special feature on the day will be the Marcus Garvey Remembered Exhibition, a comprehensive display of hundreds of photos, images and maps, with some brief accompanying text, charting Garvey's life and legacy, from his birth in Jamaica, to his passing away in England, as well as
highlighting his ongoing global influence and legacy, into the 21st century, in Britain in particular.
This event is hosted by The African British Connection CIC, and supported by Starline Edutainment, Houza Queeni and the African Caribbean Community Network (ACCN).
This is a family community event with fun activities for all all, including face painting, Oware (Mankalla) workshops, games, performances, arts & crafts, stalls and a bouncy castle.
Another important activity on the day will be an exclusive lecture/workshop about the legacy of Garvey, delivered by Brada Imani, a British-born historian and renowned 'Garveyite', who has spent the past twenty plus years, researching Garvey's works and publicising it throughout Britain.
Described by many titles – journalist, publisher, civil rights leader, to name just a few – Marcus Mosiah Garvey was born on August 17, 1887 in the parish of St. Ann's Bay.
With his father owning an extensive collection of books, young Garvey was said to become a keen reader.
In 1910, he left Jamaica, traveling to South and Central America, and also the UK. He returned to his homeland in 1914, where he set up the Universal Negro Improvement Association (UNIA). Two years later, he moved to Harlem, New York where UNIA thrived.
Having now established himself as a powerful public speaker, Garvey spoke across America and encouraged black Americans to be proud of their race and return to Africa, their ancestral homeland.
It wasn't long before thousands began championing Garvey's sentiments.
In order to aid what became known as his Back to Africa movement, Garvey founded the Black Star Line; a shipping line to provide transportation to Africa, and created the Negro Factories Corporation to inspire economic empowerment within the black community.
By now, Garvey's Pan-African vision – later dubbed as Garveyism – had earned him thousands of supporters and worldwide attention. His next mission was to develop Liberia, in a bid to create a permanent home for black Americans. Launched in 1920, the Liberia programme was intended to build colleges, universities, industrial plants, and railroads as part of an industrial base, from which to operate.
However, the scheme was later abandoned after much opposition from European powers with interests in Liberia.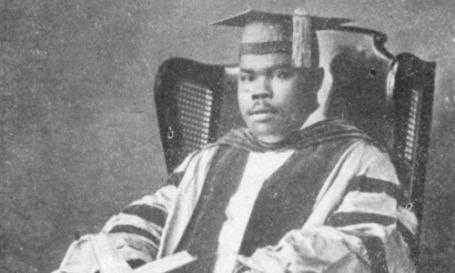 There was more trouble ahead when, in 1922, Garvey was arrested for mail fraud in connection with the sale of stock in the Black Star Line, which, by now, had now failed. Found guilty of the charge and sentenced to five years in prison, Garvey's supporters strongly contested that the trial was a politically motivated miscarriage of justice; the result of Garvey having attracted considerable government attention.
He began serving his sentence at the Atlanta Federal Penitentiary in 1925, where he penned his well-known 'First Message to the Negroes of the World From Atlanta Prison.'
In the message, he made his famous proclamation: "Look for me in the whirlwind or the storm, look for me all around you, for, with God's grace, I shall come and bring with me countless millions of black slaves who have died in America and the West Indies and the millions in Africa to aid you in the fight for Liberty, Freedom and Life."
Later deported to Jamaica, Garvey eventually moved to London, where he died on June 10, 1940. Initially buried in London, his body was later returned to Jamaica in 1964, where he was declared the country's first national hero.
****************************************************************************
The Marcus Garvey Memorial
Date: Saturday June 4, 2016
Venue: ACCN Community Centre, Abberley Street, Dudley, West Midlands DY2 8QY
For more information, visit: www.abc-cic.co.uk