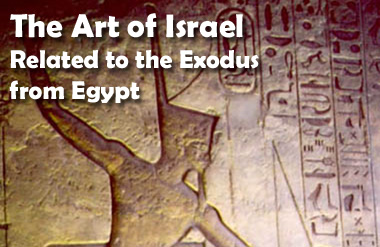 Dating of events related to the Old Testament prior to King David is difficult, and imprecise. Qualified experts and archaeologists disagree by hundreds of years as to the dated of early Old Testament events, while many consider the story of the Exodus merely a myth.
Neal A. Maxwell wrote: "It is my opinion that all scriptures, including the Book of Mormon, will remain in the realm of faith. Science will not be able to prove or disprove holy writ. However, enough plausible evidence will come forth to prevent scoffers from having a field day, but not enough to remove the requirement of faith." (Precious Things, p. 4).

The event of the escape of Israelite slaves from Egypt fits well with extra-Biblical findings, but there are no signs saying, "This way to the promised land, signed Moses." Moses is an Egyptian name, related to Ramses. Plagues, or the escape of slaves would not have been recorded by
the Egyptians, who only lauded, or exaggerated, their triumphs.


Archaeologists are currently investigating sites in the delta of Egypt that appear promising  as the cities of the Israelites. Our testimony of the validity of the Old Testament cannot be dependent on scientific research, which changes every few years as new discoveries are made.  However, there are some interesting finds in Egypt that can enrich our study of the Old Testament.

The majority of archaeologists think that Ramses II was probably the pharaoh of the oppression, if not the exodus. Ramses ruled for 67 years, from 1290 BC to 1224 BC. He instituted many massive building projects that would have needed many workers and slaves, as well as artisans.


Skilled artists and craftsmen built the massive stone temples and tombs of the pharaohs. They carved and painted in these temples, and were esteemed as valuable members of Egyptian society. Their village near the Valley of the Kings has been found and excavated. During the months that the Nile flood occurred, these workmen were assisted by farmers whose lands were temporarily under water. The Bible tells us that the Israelites made bricks, and bricks have been found that were probably made by slaves at the time of Ramses II. Israelites would not have built
the temples or tombs, but could possibly have assisted, or made houses and other buildings made of bricks.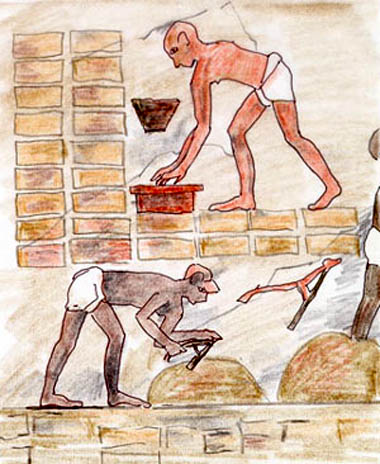 Ramses II 's tomb, in the Valley of the Kings, was pillaged after his death, but his mummy was saved by priests at the time and is now in the Egyptian Museum at Cairo. He looks good for someone 3000 years old. He had henna-dyed hair, a hawk nose, and arthritis. In 1967 his mummy began to show evidence of mold or fungus.
 He was carefully removed to Paris and repaired, and then returned to Egypt where he is on display in Cairo. Thus, Ramses II, in addition to his many other achievements, was the only pharaoh to travel to Europe, fly on a plane, and possess a passport. Ramses II possibly had 100 sons and as many daughters.
 A large tomb, found in the Valley of the Kings by Dr. Kent Weeks, was apparently the resting place of many of his sons. So far, 120 rooms have been found, with possibly as many as 50 more still not cleared. Ramses lived such a long life that many of his sons died before he did.

His massive temple, hewn from the rock cliffs beside the temple of his favorite wife Nefertari, is in southern Egypt at Abu Simbel. When the Nasser dam was built, these beautiful temples, which extend deep into the cliff, were in an area that would have been flooded. A massive effort was made to save them, and these huge temples were cut into 950 massive blocks, moved and reassembled  higher on the mountainside. Funding came from more than 50 nations, and was sponsored by UNESCO.

 It was completed by 1966. The facade of the temple features four immense statues of Ramses II, each 67 feet tall, cut from the living rock. Between the legs are figures of some of his children and his wife. Inside the temple, flanking the entrance, are two large matching bas relief walls depicting Ramses II beating a foreign enemy, possibly Semitic or Israelite.
Large Bas relief of Ramses in his temple at Abu Simbel showing him beating an enemy or captive.

Found in a tomb of the period, but undated, is a sennet pawn that resembles a bound semitic or Israelite captive. 
Sennet is an Egyptian game similar to chess. It is unknown which pharaoh owned this game, but the bound captive is interesting in light of the Egyptian view of the Semitic or Asiatic people at this time.
[url=https://servimg.com/view/19366394/3299]
[/url]
[url=https://servimg.com/view/19366394/3299]
[/url]
[url=https://servimg.com/view/19366394/3299]
[/url]
[url=https://servimg.com/view/19366394/3299]
[/url]
[url=https://servimg.com/view/19366394/3299]
[/url][url=https://servimg.com/view/19366394/3299]

[/url]
[url=https://servimg.com/view/19366394/3299]
[/url]
[url=https://servimg.com/view/19366394/3299]
[/url]
[url=https://servimg.com/view/19366394/3299]Pawn from the tomb of a pharaoh, now on display at the Louvre, is two inches tall

There is no solid evidence as to where the Israelites crossed the Red Sea, or where they traveled in the Sinai. We know there was art created by them that no longer exists. Limited archaeological research has been done in the Sinai. The golden calf of Aaron and the Ark of the Covenant are two fascinating pieces that would have been made by the Israelites during this time.
[/url]
[url=https://servimg.com/view/19366394/3299]
[/url]
[url=https://servimg.com/view/19366394/3299][url=https://servimg.com/view/19366394/3300]
[/url]
[/url]
[url=https://servimg.com/view/19366394/3299][url=https://servimg.com/view/19366394/3300]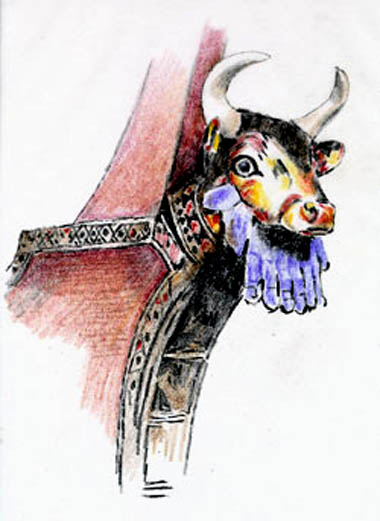 [/url]
[/url]
[url=https://servimg.com/view/19366394/3299][url=https://servimg.com/view/19366394/3300]
[/url]
[/url]
[url=https://servimg.com/view/19366394/3299][url=https://servimg.com/view/19366394/3300]
[/url]
[/url]
[url=https://servimg.com/view/19366394/3299][url=https://servimg.com/view/19366394/3300]Elegant Bull-headed Lyre, wood coated with gold leaf, lapis lazuli, and inlaid shell, Mesopotamia, British Museum. A similar bull-head Lyre was looted from the Iraqi Museum, and later recovered with the gold scraped off.
Golden calves, bulls and cows were the most ubiquitous objects of worship in both Egypt and throughout Mesopotamia.
There have been found numberless alabaster, gold, silver and other metals, molded into calves, bulls and cows that were prominent in the worship in the fertile crescent of most cultures surrounding the Israelites for thousands of years.
[/url]
[/url]
[url=https://servimg.com/view/19366394/3299][url=https://servimg.com/view/19366394/3300]
[/url]
[/url]
[url=https://servimg.com/view/19366394/3299][url=https://servimg.com/view/19366394/3300][url=https://servimg.com/view/19366394/3301]
[/url]
[/url][/url]
[url=https://servimg.com/view/19366394/3299][url=https://servimg.com/view/19366394/3300][url=https://servimg.com/view/19366394/3301]

[/url]
[/url][/url]
[url=https://servimg.com/view/19366394/3299][url=https://servimg.com/view/19366394/3300][url=https://servimg.com/view/19366394/3301]
[/url]
[/url][/url]
[url=https://servimg.com/view/19366394/3299][url=https://servimg.com/view/19366394/3300][url=https://servimg.com/view/19366394/3301]
[/url]
[/url][/url]
[url=https://servimg.com/view/19366394/3299][url=https://servimg.com/view/19366394/3300][url=https://servimg.com/view/19366394/3301]Statue of the Egyptian fertility god, the sacred Apis Bull

Egyptian queens were depicted as the reincarnation of Hathor, the cow goddess, and were often depicted with cow ears. A live sacred bull was pampered in Egypt. Known as the Apis Bull, it was
mummified when it died, and another bull with similar markings was found to replace it. The Canaanite god Baal is often depicted as a bull, or standing on the back of a bull. Sometimes a bull was molded with the intention that it would represent a stand for Baal, who would stand on
its back to hurl lightening bolts. Perhaps Aaron, in making a golden calf, was thinking of it as a stand for Jehovah, rather than to be worshiped on its own. The idea of a golden calf would not have been foreign to the Israelites. Shown here are several bulls and calves from
Egypt and Mesopotamia.[/url]
[/url][/url]
[url=https://servimg.com/view/19366394/3299][url=https://servimg.com/view/19366394/3300][url=https://servimg.com/view/19366394/3301]
[/url]
[/url][/url]
[url=https://servimg.com/view/19366394/3299][url=https://servimg.com/view/19366394/3300][url=https://servimg.com/view/19366394/3301][url=https://servimg.com/view/19366394/3302]

Drawing of a stele showing Baal, the Canaanite storm god, standing on the back of a bull. Reunion des Musee Nationaux-France.

We know of the Ark of the Covenant only from descriptions in the Bible. Artists' renderings of how it might have looked are just guesses. Since winged partially-human form sphinxes were common in Egypt, my feeling is that the cherubim on top of the Ark would have appeared like something
the Israelites would have been familiar with in Egypt. [/url]
[/url][/url][/url]