Classical music may not enjoy as much popularity as it used to in its golden age from 17th to the early 20th century. But it continues to impress and inspire, especially the works by the greatest composers of all times. Some of them may have lived hundreds of years ago but their masterpieces simply remain unsurpassed.
Felix Mendelssohn was born, and generally known in English-speaking countries, as  a German composer, pianist, organist and conductor of the early Romantic period.    Felix grew up in an environment of intense intellectual ferment.   The greatest minds of Germany were frequent visitors to his family's home in Berlin, including Wilhelm von Humboldt and Alexander von Humboldt.
He was brought up without religion, but  later his family embraced  Christianity.His parents were cautious and did not seek to capitalise on his abilities as a musician.  Mendelssohn's first public appearance occurred at the age of nine.  Famous musicians gave concerts every Sunday at his father's house; in addition to broadening the musical horizons of the gifted boy, they enabled him, as a budding composer, to test many of his works as he wrote them.
His essentially conservative musical tastes however set him apart from many of his more adventurous musical contemporaries.  Upon the urging of the king of Prussia, Mendelssohn was appointed music director of the Academy of Arts in Berlin. Until 1845 he worked only occasionally in Berlin without giving up his post at Leipzig. His schedule was marked with several trips to London, with performances of his works in London and Birmingham, England.  
During his brief life, Mendelssohn produced approximately 750 musical works in nearly every genre -- from solo songs and works for solo piano, to choral and chamber works, and to large scale orchestral works, oratorio and even opera. As a virtuoso pianist and organist, it is not surprising that nearly one quarter of his works are written for these instruments; of his piano works, the series of Lieder ohne Worte ("Songs without Words") are the most renowned. He is now among the most popular composers of the Romantic era.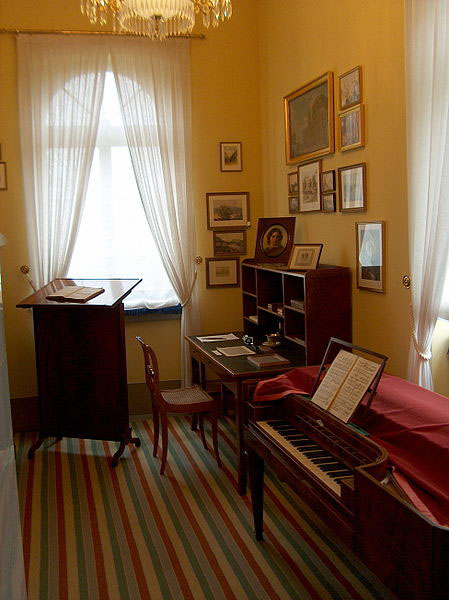 At the core of Mendelssohn's body of work stand his works for full orchestra, represented by five symphonies, two piano concertos, the widely admired Violin Concerto (op. 64, 1844), numerous tone poems and overtures, and the incidental music to A Midsummer Night's Dream, which includes the famous recessional wedding march that is a musical fixture at nuptial ceremonies even today.    Mendelssohn married Cécile Charlotte Sophie Jeanrenaud (10 October 1817 - 25 September 1853), the daughter of a French clergyman, on March 28, 1837. The couple had five children: