Abraham Lincoln is in the Wrestling Hall of Fame
He was active in sports. He took up wrestling as a young man and was very good at it and was conquered only once in roughly 300 matches, Lincoln reportedly talked a little smack in the ring.  His wrestling name was Honest Abe Lincoln's contended accomplishments  earned him an "exceptional American" honor in the National Wrestling Hall of Fame.
Lincoln Issued the Emancipation Proclamation
Lincoln issued the Emancipation Proclamation, the emancipation proclamation was to set free slaves in all southern states.  Lincoln used his political influence and powers to free the slaves of seceded states. However, he did not include slaves in Union states because he did not believe this was a constitutional power provided to him.  
He was the 16th president of the United States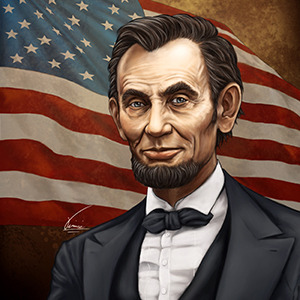 He only had one year of formal education. However, he did have a number of tutors over the years.  When he occupied the White House during the American Civil War.  He never slept in his presidential suite, but instead he used the bedroom as his personal office. It was there that he met with Cabinet members and signed documents, including the Emancipation Proclamation.   Lincoln's political adversary was Stephen Douglas. They debated each other seven times. One pivotal issue was slavery.
Abraham Lincoln created the Secret Service
The ultimate mission of the law enforcement agency was to combat widespread currency counterfeiting. It was not until 1901, after the killing of two other presidents, that the Secret Service was properly given the authority  to protect the commander-in-chief.
Grave robbers attempted to steal Lincoln's corpse.
The secret service that Abraham Lincoln created helped foiled the plot. In 1876 a gang of Chicago counterfeiters attempted to snatch Lincoln's body from his tomb, which was protected by just a single padlock, in Oak Ridge Cemetery in Springfield, Illinois. Their scheming strategy was to hold the corpse for a ransom and secure the release of the gang's best counterfeiter from prison. The secret service sneaked upon the gang's teritory and were lying in wait to disrupt the operation. Lincoln's body was urgently moved to an unmarked grave and was finally encased in a steel cage and entombed under 10 feet of concrete.
By
VG.